LEGAL LOVE
Minka (54, works in the film world) and Suzanne (58, singer and master of ceremonies) got married in 2005. Suzanne proposed in a restaurant at the top of the Eiffel Tower. And she never really wanted to get married. At the security checkpoint at the foot of the tower things nearly took a wrong turn: the security guard asked if Mademoiselle would turn her handbag – containing the wedding ring – inside out. After a lot of facial expressions and wild gestures from Suzanne, he realised the bag contained an important secret object and they were allowed to continue. Once in the restaurant with a view of the City of Lights, Suzanne dropped to her knees.
The marriage was preceded by quite the discussion. Suzanne: Why would we get married? Minka: Why not? Suzanne: Why? Etcetera. Minka: 'I think getting married is fun and romantic. Suz had also had a bad time because she had wanted to get pregnant, and it didn't work out. I wanted to create a positive vibe. We had been together for fourteen years. And what could be more fun than a wedding with all your friends and family present?'
Suzanne: 'I thought: if we get married and a child is born, then we are both legally the parents. This was not the case. Ultimately, as a non-biological mother, I had to adopt my own child. ADOPTION! I was furious. Fortunately, that is now organised differently.'
Minka still sees room for improvement. 'As a same-sex couple, you always need a third parent to have a child. However, only two persons can legally be the parents. Idiotic right? A lot still needs to be achieved before there are truly equal rights.'
Minka: 'Suz and I are privileged that our environment accepted our love.'
Suzanne: 'When I became known as a singer, women and girls kept asking me how I came out, how I had done it. But I never 'did' anything. It was just the way it was. And it was fine.'
Minka: 'Being with a woman was never a problem, everyone loved the fact we were getting married.'
July 25, 2005: Friend and tattoo artist Henk Schiffmacher sealed the love between Minka and Suzanne on a boat in Amsterdam. It was high summer. Torrential rain was pouring from the sky. Suzanne: 'The lunch at long tables in an apple orchard got soaked – we moved to the barn. Then we went back to the boat for the party, and we danced deep into the night.'
The first morning after the wedding, the newlywed couple woke up and looked at each other. 'Was this the best day of our lives?' No, that day was yet to come, namely the birth of their daughter Uma Lee. Minka: 'We realised we had a wonderful life with lovely family and friends. There were so many highlights in life. Our wedding was 'just' one of them.' <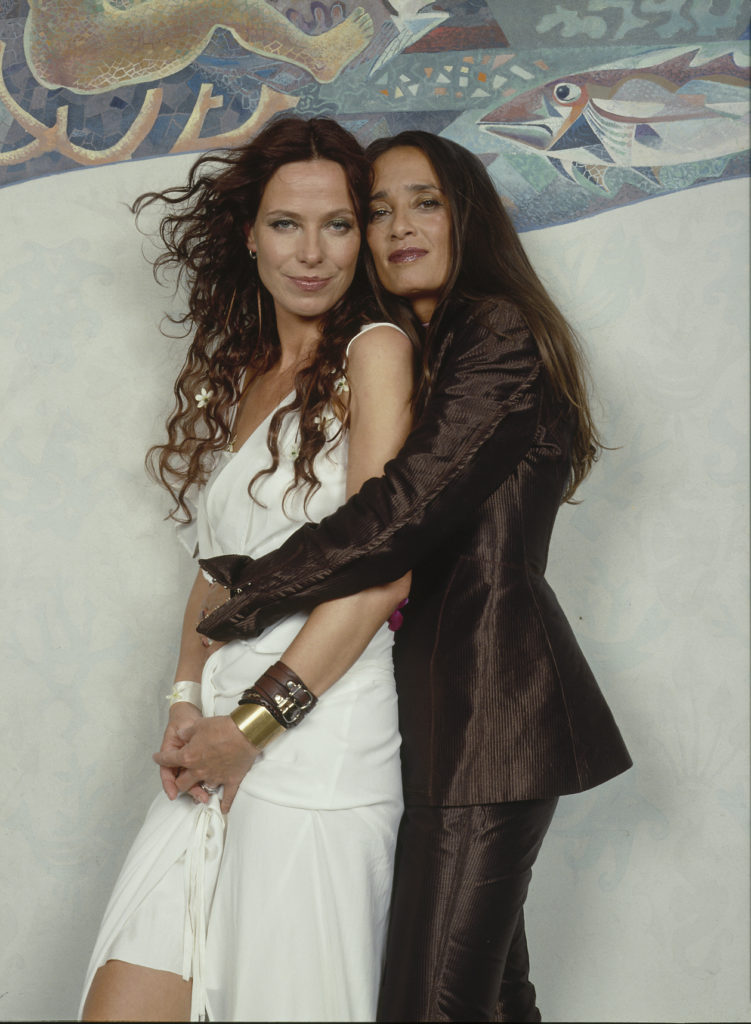 LEGAL LOVE – 20 years of marriage for everyone
Creation Concept by the Open mind Foundation – Image by Ernst Coppejans – Styling by Richard Schreefel – Interviews and text by Mirjam Bekker-Stoop and Lara Aerts – Design by Kellerman agency in action – exhibition Bordbusters
With special thanks to the 20 beautiful couples who agreed to visually represent
The anniversary celebration of the opening up of civil marriage to people of the same sex.
Sharing the marriage experiences of a diverse group of portrayed married LGBTQIA + persons with a large and broad target group.
Looking back on the past 20 years with an eye on the future.
Putting current problems that arise around the acceptance of LGBTQIA+ people on the agenda.
Driving the conversation about the current state of affairs regarding acceptance and inclusion.
Promoting social acceptance and equal rights of LGBTQIA + people.
See for more information