LEGAL LOVE
Tony (36, brand manager) hit on Dennis (48, ICT practice trainer) at a party. Tony called out very emphatically after the last round: We-are-going-to-the-sauna.
Dennis: 'I listened carefully.' Tony: 'We chatted for five hours in that sauna. We had an instant connection.'
For Dennis, getting married was always something other people do. Until he ran into Tony. 'I love Tony, I am in love with him. I wanted to celebrate that together and show it to everyone.'
Tony: 'We have the same rights as everyone else, and you emphasise that when you get married. Yet for us, love came first.'
Dennis: 'Same-sex marriage and the acceptance of LGBTQIA + still deserves attention. It's okay in the Netherlands, but we're not there yet. I have long accepted questions and comments that were really not acceptable. Such as: which one of you is the female? I used to laugh about this. Now I start to argue: what are you actually asking? I don't care what you do in your bedroom, do I?'
Tony: 'It is often caused by ignorance, but I have lost patience. It is 2021, everyone has access to the internet and can look up things about other people.'
Tony and Dennis both knew around the age of eleven that they liked boys. Tony: 'First I had to accept it myself before I came out when I was nineteen. My mother already knew, but I informed the rest of the world through my MSN profile: 'I am gay and I don't care'. My father's best friend was gay and he therefore had a very difficult life on the Antilles. My father accepted me, but he was also concerned.'
Dennis: 'At home, my dad would zap away when there was something on TV about gay men. But when my parents found out that I liked boys, they immediately accepted it. I was sixteen years old and from that moment on I went through life openly and proudly as gay. At school I was bullied by other boys, but they immediately got into trouble with their girlfriends who stood up for me.'
You would think that the route out of the closet went smoothly for Tony and Dennis. But appearances deceive. Dennis: 'I felt guilty towards my parents. That I didn't fulfil their expectations. Later, when I had two children with a lesbian couple, the guilt came back. I thought: they have grandchildren but not according to the norm. And it's my fault.'
Dennis: 'To the outside world, when you come out it is like you transform from straight to gay. Because everyone just assumed you were straight. But you were always gay to yourself. That's why I felt like a liar and cheater for eight years. Eight years is a long time, when you're a teenager.'
Still, Tony and Dennis are hopeful for the future.
Tony: 'A woman in the neighbourhood said that her son is in love with a boy. She wanted to know if she had responded to it properly.' Tony: 'I think young people are becoming more and more fluid in terms of gender, sex and sexuality.'
Dennis: 'Also in the gay scene you see that boys no longer allow themselves to be pigeonholed, leather, feminine or whatever. LGBTQIA + young people are increasingly themselves, also in a heterosexual environment.' <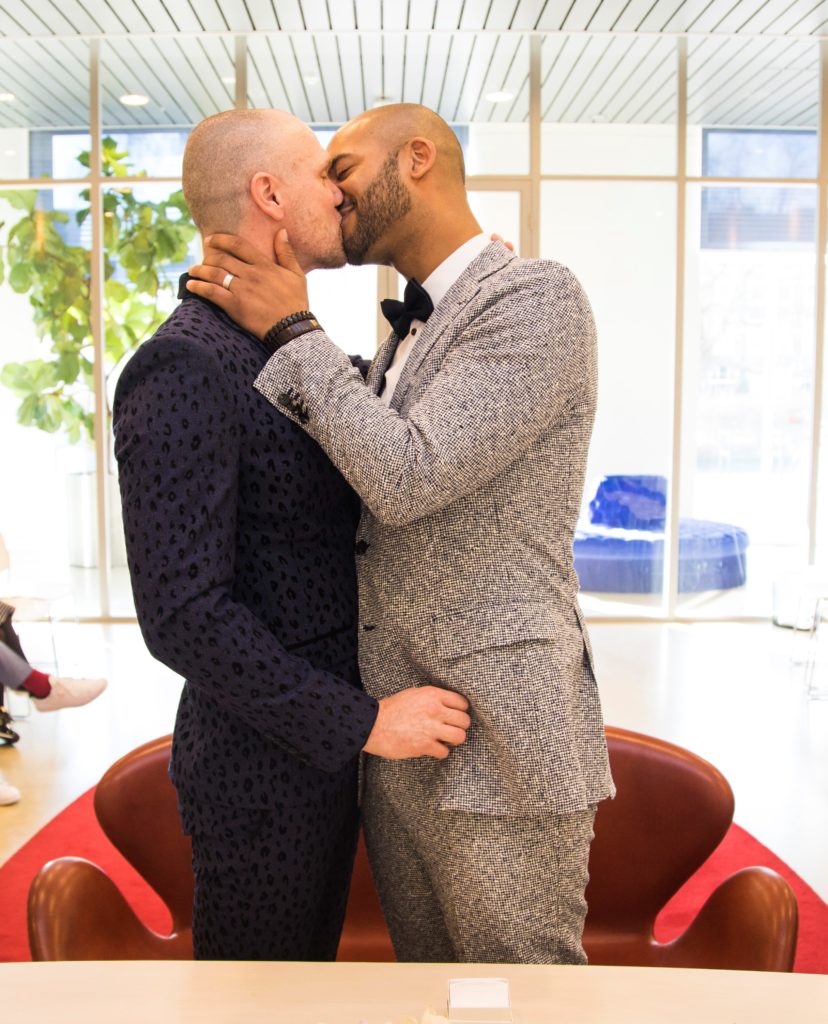 LEGAL LOVE – 20 years of marriage for everyone
Creation Concept by the Open mind Foundation – Image by Ernst Coppejans – Styling by Richard Schreefel – Interviews and text by Mirjam Bekker-Stoop and Lara Aerts – Design by Kellerman agency in action – exhibition Bordbusters
With special thanks to the 20 beautiful couples who agreed to visually represent
The anniversary celebration of the opening up of civil marriage to people of the same sex.
Sharing the marriage experiences of a diverse group of portrayed married LGBTQIA + persons with a large and broad target group.
Looking back on the past 20 years with an eye on the future.
Putting current problems that arise around the acceptance of LGBTQIA+ people on the agenda.
Driving the conversation about the current state of affairs regarding acceptance and inclusion.
Promoting social acceptance and equal rights of LGBTQIA + people.
See for more information
SEE ALL VIDEOS