LEGAL LOVE
Ivo (35, doctor) proposed to Peter (43, controller) on holiday in Mozambique. On the beach with a beer in his hand. He had bought a ring in advance. They got married in 2017 at Dignita behind the Hermitage in Amsterdam.
Being married holds meaning for Ivo and Peter in many ways. Peter: 'I am proud of gay marriage. That it is allowed in the Netherlands. It confirms our equal rights.' For Ivo, getting married is also a way of making a statement. 'When you get married, you formalise being gay. I would like to spread that message. So that young people see: this is possible, marriage is possible. It is my contribution to the normalisation process. We have many friends' children around us. They were also at our wedding. I hope they grow up with the idea that being gay is normal and accepted. I hope our marriage does help a little with lgbtqia+ emancipation.
Peter grew up in Friesland, Ivo in Brabant. They don't remember talking about being gay, growing up. Not at school, neither in the family. Ivo's parents responded compassionately when he came out around the age of 21. Peter's parents found it a bit more difficult to accept. Peter: 'I learned to live with it. Your parents are your parents. They belong to me, to my life. And Ivo's family has accepted me completely. That is very nice.'
Peter and Ivo met each other eight years ago through Tinder. Peter had been in a relationship for seven years; Ivo had only dated. Those dates always led to nothing. In consultation with a friend, Ivo decided to do things differently. 'From then on I allowed myself time to get to know someone better.' Peter, laughing: 'During our first dinner, I was 'questioned' by Ivo for three hours. He wanted to know everything about me.' The love they felt for each other was going to grow, but there was already deeply felt sympathy and mutual interests. What did they like about each other? Peter: 'Ivo was spontaneous and funny.' Ivo: 'Peter was cheerful and had a lot of energy.'
They also find each other very sweet and caring. According to Ivo, they would have had three children if one of them had a uterus. They have examined in detail all their options in this respect. They see a snag with many options. And although their hearts melt every time they see a little one seated on the back of a bike, and even though they have so much love to give and they would very much like to see a child grow up and be raised within their philosophy…. They have also found peace in the idea that it may not happen. Unless fate decides otherwise. They will keep that possibility open. <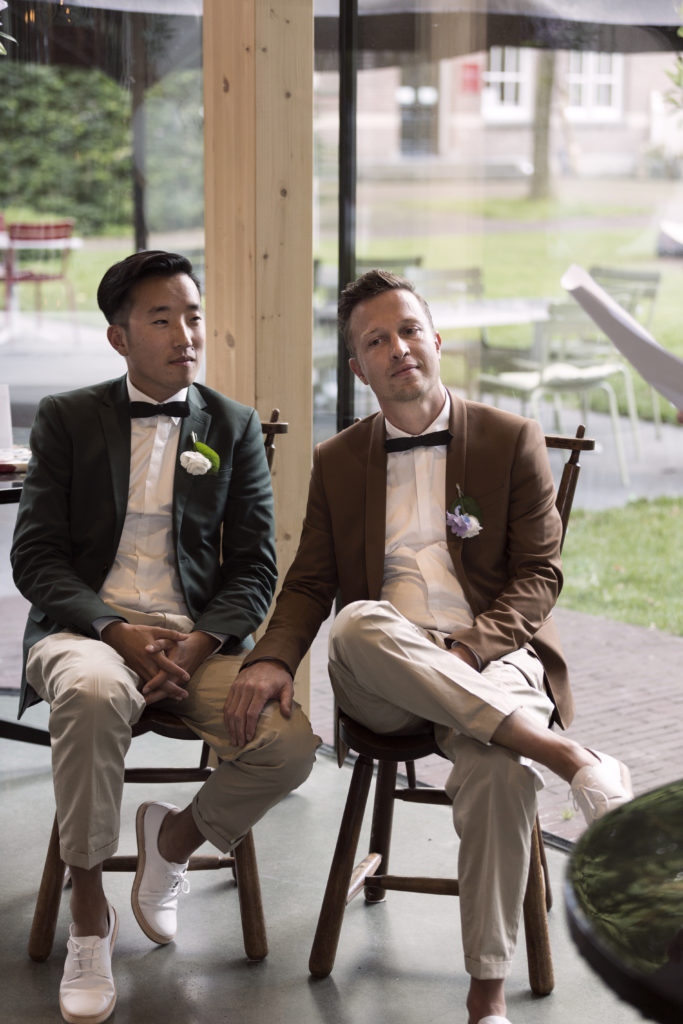 LEGAL LOVE – 20 years of marriage for everyone
Creation: Concept by the Open mind Foundation – Image by Ernst Coppejans – Styling by Richard Schreefel – Interviews and text by Mirjam Bekker-Stoop and Lara Aerts – Design by Kellerman agency in action – exhibition Bordbusters
With special thanks to the 20 beautiful couples who agreed to visually represent:
The anniversary celebration of the opening up of civil marriage to people of the same sex.
Sharing the marriage experiences of a diverse group of portrayed married LGBTQIA + persons with a large and broad target group.
Looking back on the past 20 years with an eye on the future.
Putting current problems that arise around the acceptance of LGBTQIA+ people on the agenda.
Driving the conversation about the current state of affairs regarding acceptance and inclusion.
Promoting social acceptance and equal rights of LGBTQIA + people.
See for more information:
SEE ALL VIDEOS