LEGAL LOVE
Vincent (34, controller) and Marvin (37, catering employee) got to know each other at a party. Two weeks later they were living together, three months later they were engaged. They have now been married for four years.
Vincent and Marvin want to build their dream house in Suriname for their children. Three of them already live there with their mother. Marvin's daughter, who is already 13, lives in the Netherlands. A holiday home will be made for her in the dream house.
Marvin: 'I feel a real need to create awareness about homosexuality in Suriname. I want to become active there to contribute to the acceptance process. Everyone in Suriname has equal rights on paper, this is confirmed in the constitution. But a marriage between two men or two women is not possible. Moreover, people have weird ideas about gay men. A gay man is considered a feminine man. I feel like shaking all of that up.'
Vincent: 'I feel strong, and I am ready for it. I am sharp-tongued so when I hear comments on what is stated, or not, in the Bible or anywhere about homosexuality, I immediately retort, 'Are you doing everything that is prescribed by the Bible? You didn't have premarital sex? No children out of wedlock?'
Marvin: 'We never experience any issues outside on the street. We walk hand in hand, give each other a kiss. Also in Amsterdam Nieuw-West where we have lived for a long time, we have not had any issues. Our old neighbours were Moroccan, we were very close with them. Look, Vincent is my husband and I'm not going to be ashamed of him. I am not at all concerned with what others think of us. One person does not like black, the other hates white, Moroccans, gay men, or whatever. I can't seriously consider that.'
Vincent: 'Marvin is a bear of a dude, so bring it on if you have a problem. Not that we ever have words or arguments in the street.'
That self-confidence is due to both mothers. Vincent: 'When my mother accepted me being gay, the fear I felt about what people might think of me disappeared.' Not that both mothers immediately jumped with joy, quite the contrary. Neither did the fathers; but this was out of concern. Vincent: 'They were afraid we would have a hard time.'
Marvin still cries when he talks about the wedding. About Vincent's mother who said she was proud. 'Parents are your safety net. If the whole world accepts you but your parents don't, then something keeps gnawing. Something is missing. But if your parents are behind you, you can take on the whole world. ' <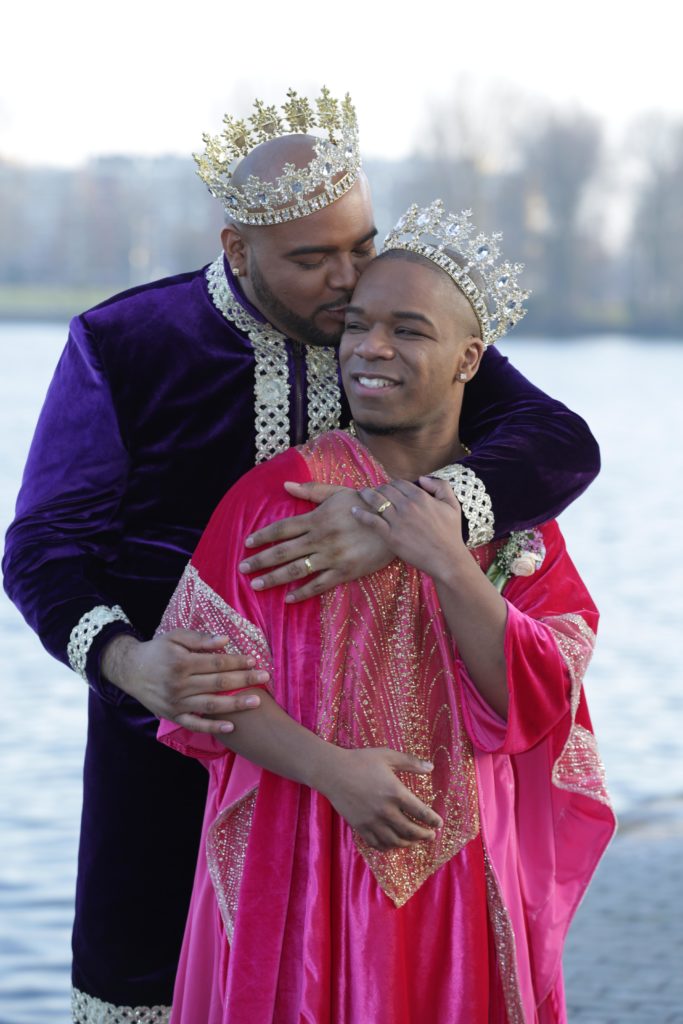 LEGAL LOVE – 20 years of marriage for everyone
Creation Concept by the Open mind Foundation – Image by Ernst Coppejans – Styling by Richard Schreefel – Interviews and text by Mirjam Bekker-Stoop and Lara Aerts – Design by Kellerman agency in action – exhibition Bordbusters
With special thanks to the 20 beautiful couples who agreed to visually represent
The anniversary celebration of the opening up of civil marriage to people of the same sex.
Sharing the marriage experiences of a diverse group of portrayed married LGBTQIA + persons with a large and broad target group.
Looking back on the past 20 years with an eye on the future.
Putting current problems that arise around the acceptance of LGBTQIA+ people on the agenda.
Driving the conversation about the current state of affairs regarding acceptance and inclusion.
Promoting social acceptance and equal rights of LGBTQIA + people.
See for more information
SEE ALL VIDEOS