LEGAL LOVE
'Watch out, we will be getting married later' was the first thing Lucien said to Victor as he sat at the edge of the pool during a party in Curaçao. Victor (30, Spanish teacher): 'I thought: brrrr here's another Dutch person who can't dance.' Lucien (53, director of Pride Amsterdam): 'Just half an hour later he agreed with me.' Victor: 'He spoke beautiful Spanish and moved like a Latino.'
Lucien was in Curaçao because the Pride was taking place there. Victor worked there as an undocumented immigrant so he could send money home to Venezuela. Victor: 'My family was hungry. And I wanted to be able to live more openly as a gay man. In Curaçao they do see gays as perverts, but in Venezuela you absolutely cannot come out of the closet.' What did they see in each other? Victor: 'I call it instant love.' Lucien: 'It felt like a homecoming.'
Life is tough for immigrants in Curaçao. Victor: 'There is discrimination against immigrants and there are constant raids in which we are arrested, imprisoned and deported. You're a pariah. Yet I see the island as a bridge between my husband and me.'
Two weeks after their meeting, Lucien waited for Victor at Schiphol airport. Victor: 'I immediately fell in love with the country.' Lucien: 'After a week he started Dutch lessons.' After three months the holiday was over, and Victor had to return to Venezuela – he was not allowed back into Curaçao. That meant going back into the closet. And he started an integration course at the Dutch embassy there. Lucien: 'He was only able to return to the Netherlands after five months, but we couldn't manage without each other.' They flew to Aruba, where Lucien proposed to Victor on a beach.
Lucien: 'Marriage didn't mean much to me. But Victor is romantic. So we went for the full shebang: rings, each other's surnames, a carriage with horses that took us from the Krasnapolsky to the Vondelpark. Imca Marina registered the wedding and a TV crew documented it.'
Meanwhile, Victor had not yet come out to his family. An earlier attempt to tell his mother had resulted in her promise that she would roast his buttocks on a gas stove if he turned out to be gay. Victor: 'The day after the wedding, the phone rang. My father in Venezuela had heard it through the grapevine. Was it true, he wanted to know? He walked out the front door of the house and none of our family has seen him since.'
Victor finds living in the Netherlands such a relief. 'There is discrimination here, but at least I can say what I want and be who I am.' Mama has since changed opinions and she has become a big fan of Lucien. Victor and Lucien live together in the Bos en Lommer, a mixed and so called problem area in Amsterdam. Lucien: 'I'm not a huge fan of walking hand in hand, but if I want to kiss Victor on the street, I will, after a quick security scan. If I see groups of youngers hanging around, I will postpone the kiss until we reach the next block. I've never had any problems here. My Moroccan neighbours were very excited when we got married.'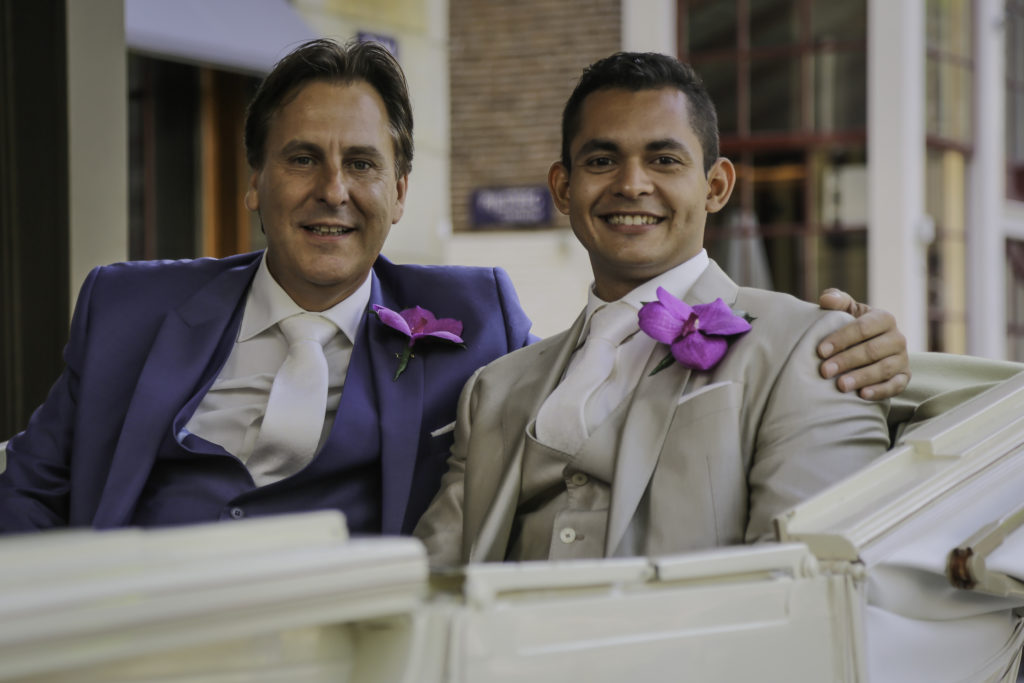 LEGAL LOVE – 20 years of marriage for everyone
Creation Concept by the Open mind Foundation – Image by Ernst Coppejans – Styling by Richard Schreefel – Interviews and text by Mirjam Bekker-Stoop and Lara Aerts – Design by Kellerman agency in action – exhibition Bordbusters
With special thanks to the 20 beautiful couples who agreed to visually represent
The anniversary celebration of the opening up of civil marriage to people of the same sex.
Sharing the marriage experiences of a diverse group of portrayed married LGBTQIA + persons with a large and broad target group.
Looking back on the past 20 years with an eye on the future.
Putting current problems that arise around the acceptance of LGBTQIA+ people on the agenda.
Driving the conversation about the current state of affairs regarding acceptance and inclusion.
Promoting social acceptance and equal rights of LGBTQIA + people.
See for more information
SEE ALL VIDEOS